Huawei Solar Announces New Inverter Production Facility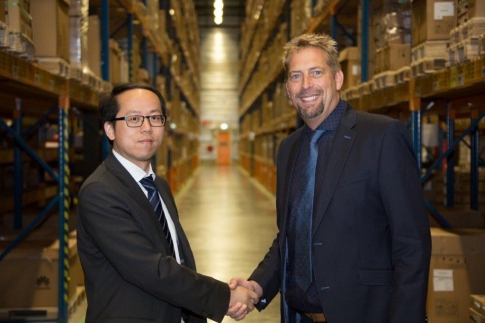 Huawei Solar, manufacturer of string inverters by shipments, has announced an expansion of its European Supply Centre with a new inverter production facility in Eindhoven, Netherlands. The centre will greatly increase the flexibility of the company's customised inverter production and shorten delivery lead times. Leading logistics provider DHL will cooperate with Huawei to provide this production and delivery service.
All of Huawei's European string inverters are supplied through this Supply Centre situated in Eindhoven. The warehouse facility is 10,000m2 and it has a production capacity of over 100,000 units per month, 7,000 of which are inverters. In addition to pick and pack services, Huawei and DHL handle software uploads and cable cutting activities that enable a more tailored and responsive service to Huawei's customers across Europe.
Guoguang Chen, General Manager for Huawei Solar Europe, said, "Today marks a significant milestone in the development of Huawei Solar's European business with enhancements to our supply chain operation and, most notably, the integration of our new inverter production facility. We pride ourselves in being a trusted and reliable partner to our customers and this upgrade of our capabilities means we can serve our European partners better still."
Huawei has integrated new manufacturing capabilities into the Eindhoven hub, which enables the company to tailor services for local customer needs. Huawei can now amend and tailor the software and licensing for the inverters, enabling the company to increase its supply potential and provide more flexibility for customer orders.
Guoguang continues, "We are taking an end-to-end approach and reviewing operations from storage through to delivery. We have shortened production lead-time greatly and honed our ability to finish production within several hours for urgent orders. With DHL's professional operation, the result is an entirely customised logistics operation that meets the different requirements of our customers and fine-tunes our own operations so that we are now in a position to deliver products to European customers faster than ever."
Guoguang Chen was joined by senior Huawei colleagues Alison Finch, Chief Marketing Officer, Bruce Chen Xinzhi, Director of Huawei Europe Supply Centre and John Scherders, VP Operations Technology Europe, DHL, for the announcement at the facility. Twenty customers, including representatives from Profinrgy, Vamat, Solarcentury and Sungevity, also joined Huawei and DHL for an on-site visit where they received a tour of the new inverter production line, as well as a behind the scenes tour of the inverter delivery operation.
John Scherders, VP Operations Technology Europe at DHL, said, "We are very proud to add another service to our cooperation with the start of the inverter project today. The expansion of our partnership will improve our ability to support Huawei serve its customers. DHL will remain focused on quality, flexibility and innovation to keep supporting Huawei and give their customers the best service."
The facility in Eindhoven was opened in May 2015 following the successful cooperation between Huawei and DHL at the company's hub in Hungary. Since opening, the Eindhoven facility has almost doubled its volume and serves more than forty countries in Europe, Central Asia and Russia.