Yole unpacks power module packaging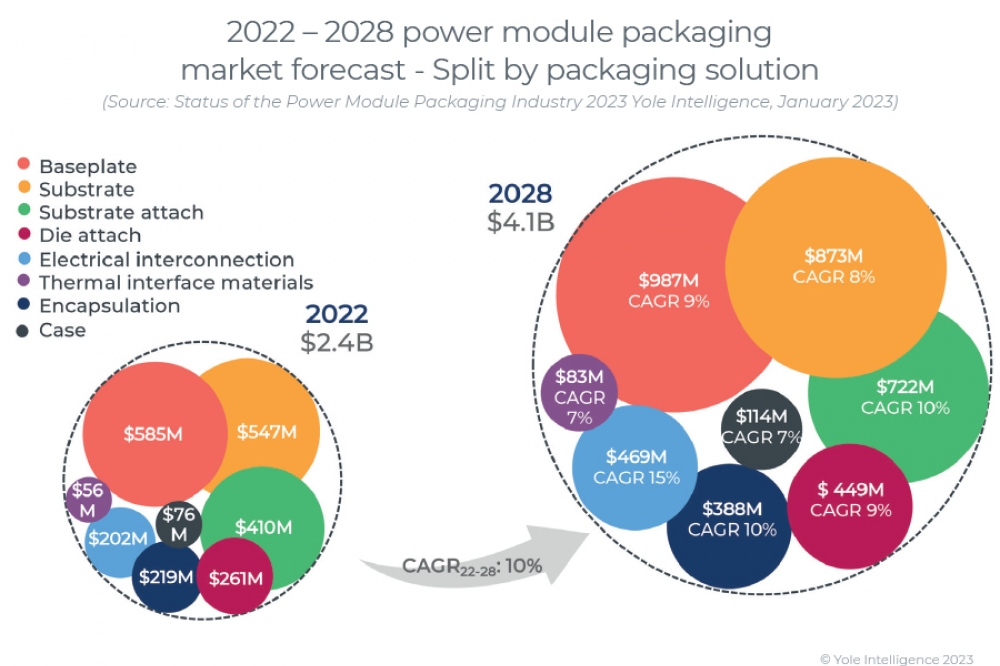 2023 report looks at module costs now and into the future

The market for power modules will reach $14.8B by 2028, with a 2022 - 2028 compound annual growth rate (CAGR) of 12.8 percent, according to a report by Yole Intelligence. By 2028, the power module packaging raw materials market will have a value of almost $4.1B, representing close to 28 percent of total power module cost.

In its 'Status of the Power Module Packaging Industry 2023' report, Yole has looked at the substrate, baseplate, die-attach, substrate-attach, encapsulation, interconnection, and thermal interface material (TIM) markets in terms of technology, supply chain and market forecasts.
In 2022, the largest packaging material segment was for baseplates (25 percent of total market), followed by substrates (23 percent of total market). The other 28 percent of this market is represented by die-attach and substrate-attach materials.
The major technological choices in these segments can rapidly impact the overall power module packaging market, says Yole. For example, the market share for silicon nitride as a substrate is increasing, driven primarily by EV/HEVs, but this technology is pricier than more conventional aluminium oxide substrates.
EV/HEV driving the market
Power packaging needs are increasingly driven by electric and hybrid electric vehicles; a market where requirements for power, frequency, efficiency, robustness, reliability, weight, and volume are more stringent than for industrial products. As a result, demand is increasing for high power density and highly reliable power module packaging materials such as silver sintering paste for die attach and substrate attach, silicon nitride-based ceramic substrate, and copper-based electrical interconnections.
Today, silicon-based modules are the standard power modules for EV/HEV systems. However, SiC-based power modules are gaining in popularity. The introduction of SiC technology requires new power packaging solutions, since a SiC device can work at higher junction temperatures and higher switching frequencies with smaller die sizes.
Supply chain issues?
The huge business opportunity presented by the power device market is attracting interest from different players in the power electronics and automotive supply chains. With a strong focus on power modules, changes in business models and a reshaping of the supply chain are expected. There are new partnerships and acquisitions within the supply chain, such as the acquisition of Laird by Dupont and the acquisition of Hitachi Metals by Bain Capital. Moreover, EV manufacturers are becoming increasingly involved in the design and manufacturing of power modules. Many Chinese companies are developing power module packaging solutions, and many newcomers are also involved in the development of power module packaging solutions.