Rohm announces new MOSFETs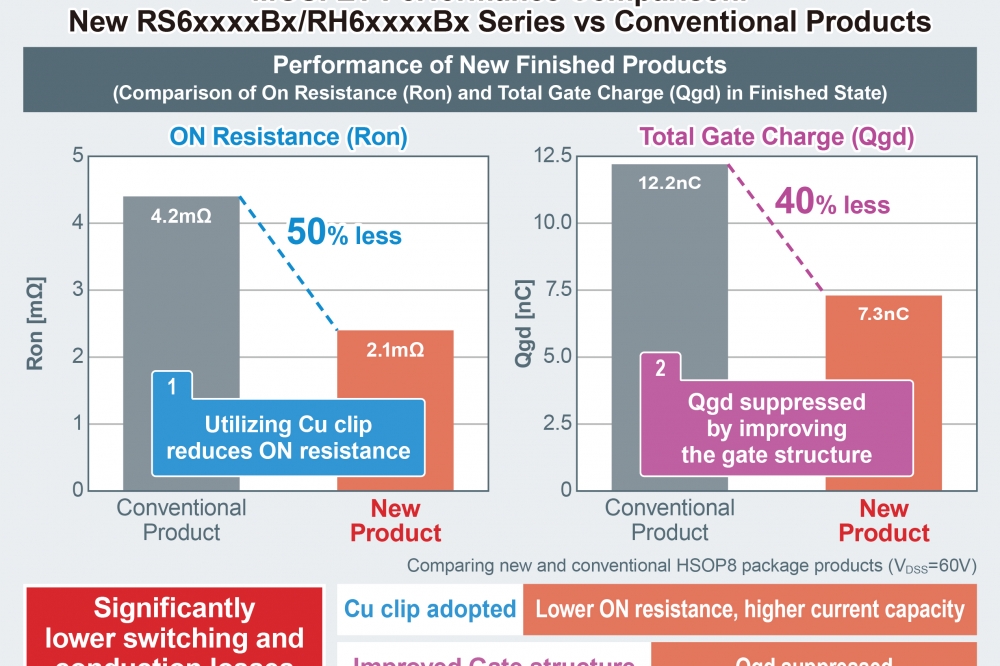 40V-150V breakdown voltage lineup: ideal for motor drive and industrial power supplies

Rohm has developed new range of Nch MOSFETs (40V/60V/80V/100V/150V) RS6xxxxBx / RH6xxxxBx series, suitable for applications operating on 24V/36V/48V power supplies such as base stations, servers, and motors for industrial and consumer equipment.

Ever lower power losses are in demand, however, general MOSFETs are characterised by two main parameters leading to power losses: ON resistance (RDS(on)), which is inversely proportional to chip size, and Gate-drain charge (Qgd) that increases proportionally with chip size, making it challenging to achieve both. Rohm has improved the trade-off between the two by adopting copper clip connections and improving the gate structure.
The new MOSFETs achieve an industry-leading RDS(on) of 2.1mΩ – approx. 50 percent lower than conventional – by increasing device performance and adopting the HSOP8/HSMT8 package featuring low-resistance copper clip connections. What's more, Rohm says that improving the element gate structure reduces Qgd, which is generally in a trade-off relationship with RDS(on), by approx. 40 percent vs conventional products (comparing typical values for RDS(on) and Qgd for 60V HSOP8 package products).
These improvements reduce both switching and conduction losses, greatly contributing to higher application efficiency. As an example, when comparing the efficiency of a power supply evaluation board for industrial equipment, Rohm's new products achieve an industry-leading efficiency of approx. 95 percent (peak) in the output current range during steady-state operation.
Application examples are power supplies for servers and communication base stations, motors for industrial and consumer products, and a variety of power supply circuits and motor-equipped devices.