EPC and ADI introduce reference design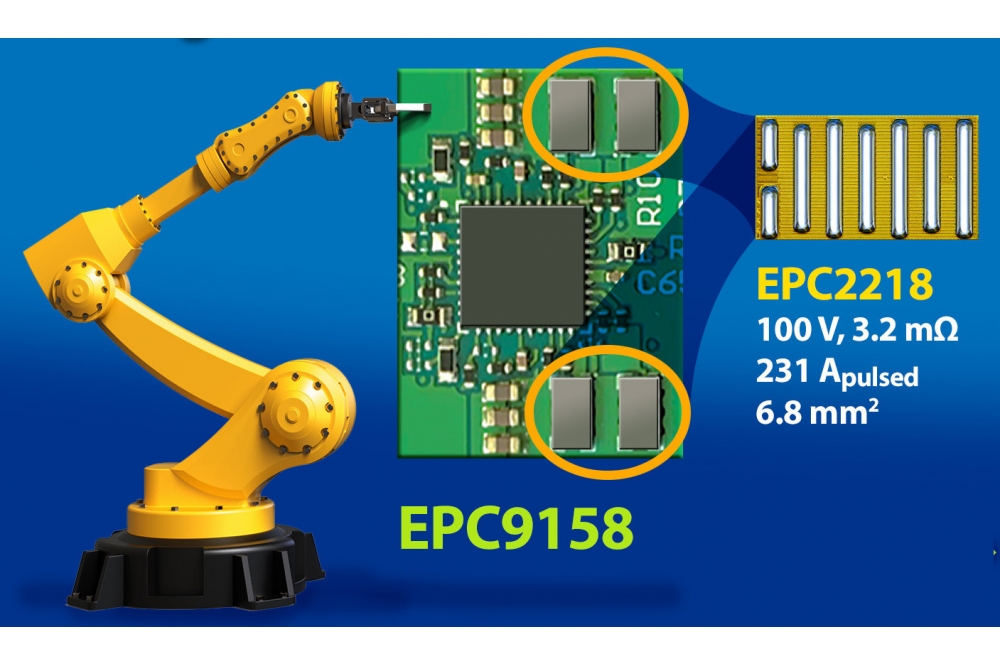 High power density for regulated DC-DCs achieved using EPC GaN FETs and Analog Devices' controller

EPC has announced the EPC9158, a dual output synchronous buck converter reference design board operating at 500 kHz switching frequency.

The board combines Analog Devices' LTC7890 synchronous GaN buck controller with GaN FETs from EPC to convert an input voltage of 48 V - 54 V to a regulated 12 V output and delivers up to 25 A per phase or 50 A total continuous current. The solution is said to achieve 96.5 percent efficient at 48 V to 12 V and 50 A continuous current.
The high-power density makes this solution suitable for computing, industrial, consumer, and telecom power systems requiring small size and high efficiency.
The EPC9158 reference design uses the EPC2218 100 V enhancement-mode GaN FET and the LTC7890 two-phase analogue buck controller with integrated GaN drivers.
The LTC7890 100 V low Iq, dual, 2-phase synchronous step-down controller is optimised to drive EPC GaN FETs and integrates a half bridge driver and smart bootstrap diode. It offers optimised near-zero deadtime or programmable deadtime and programmable switching frequency up to 3 MHz. The quiescent current of 5 uA (VIN = 48 V, VOUT = 5 V, CH1 only) enables very low standby power consumption and excellent light load efficiency.

The EPC2218 is a 100 V GaN FET with 3.2 mOhm max RDS(on), 10.5 nC QG, 1.5 nC QGD, 46 nC QOSS and zero QRR in a super small 3.5 mm x 1.95 mm footprint and can deliver up to 60 A continuous current and 231 A peak current. The excellent dynamic parameters allow very small switching losses at 500 kHz switching frequency.
The efficiency of the EPC9158 is greater than 96.5 percent for 12 V output and 48 V input. In addition to light load operating mode and adjustable dead time, the board offers UVLO, Over-current protection, and power good output.
Alex Lidow, CEO of EPC commented, "GaN FETs are required to achieve the maxim power density for DC-DC converters. We are delighted to work with Analog Devices to combine the benefits of their advanced controllers with the performance of GaN to provide customers with the highest power density and low component count solution that increases the efficiency, increases power density, and reduces system cost".