Wolfspeed hosts first stop on 'Invest in America' tour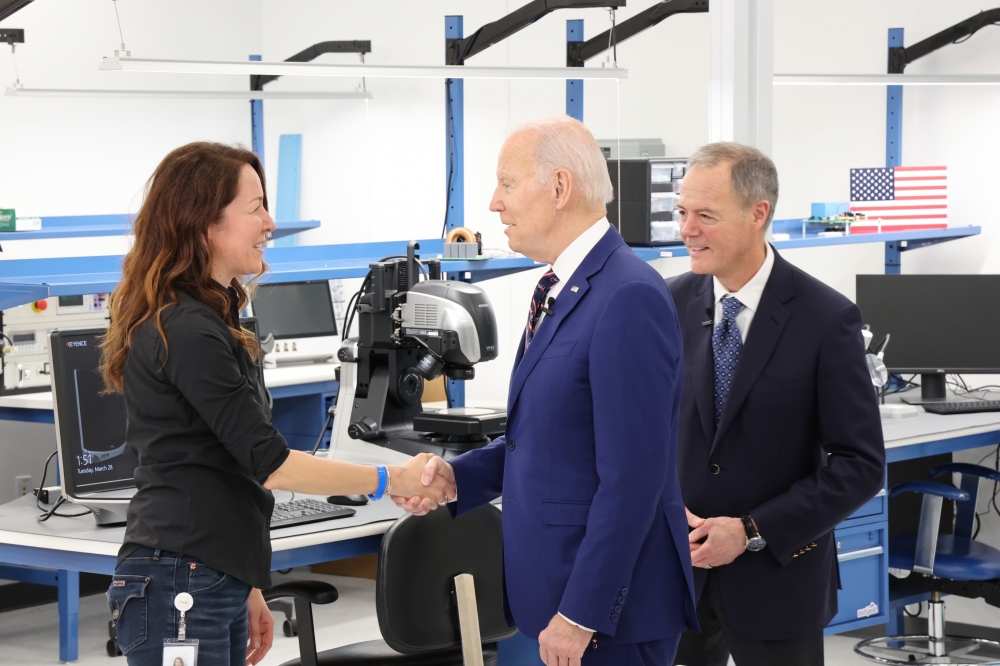 President Biden delivered remarks about initiatives aimed to grow the American economy

American SiC chip company Wolfspeed hosted the first stop of President Joe Biden's 'Invest in America' tour at the company's Durham, NC headquarters.

The US President highlighted initiatives designed to boost American manufacturing, rebuild the nation's infrastructure and strengthen supply chains. US Secretary of Commerce Gina Raimondo and North Carolina Governor Roy Cooper were also in attendance at the event.
"We're honoured to have been the first stop on the President's 'Invest in America' tour and to be recognised for our commitment to growing US manufacturing and making a name for North Carolina in the tech space," said Wolfspeed President and CEO, Gregg Lowe. "SiC is at the heart of what we do -- it's essential to accelerating the adoption of EVs, delivering energy savings to consumers, and meeting global emission reduction targets. Wolfspeed is proud to play a critical role in fulfilling the objectives of the CHIPS & Science Act and the Inflation Reduction Act, and to reinforce US leadership in the energy transition and the semiconductor industry."
Wolfspeed currently produces more than 60 percent of the world's SiC materials at its Durham, NC headquarters, but is engaged in a $6.5 billion capacity expansion effort to increase production. This includes the opening of the company's 200mm Mohawk Valley device fab in April 2022, and the construction of The John Palmour Manufacturing Center for SiC, a 445-acre SiC materials facility in North Carolina, which will expand the company's existing materials capacity by more than 10 times. Phase one construction for the materials facility is anticipated to be completed in 2024. Last month, Wolfspeed also announced plans to build a 200mm wafer fabrication facility in Saarland, Germany.
Pictured above left to right: Wolfspeed CTO, Elif Balkas; President Joe Biden; Wolfspeed CEO, Gregg Lowe.