Silanna unveils 65W fast charger design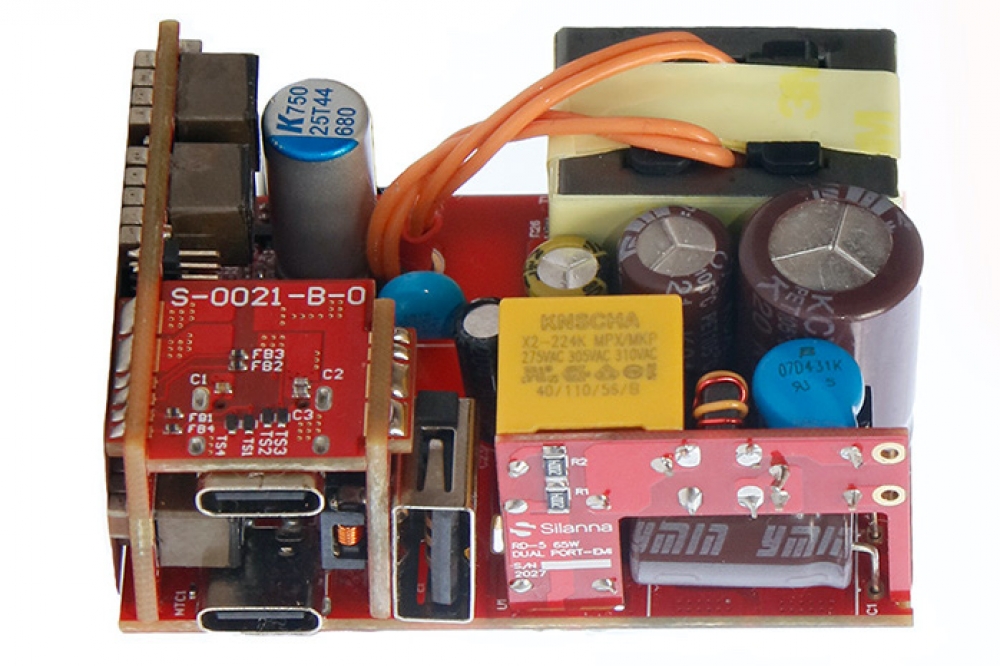 AnyPort production-ready design combines adaptive power sharing buck converter with ACF controller
Silanna Semiconductor has launched a new integrated reference design that will reduce the development time of multi-port, 65W USB-PD fast chargers. Based on Silanna's CO2 Smart Power technologies, the AnyPort RD-15 integrates the industry's first DC/DC converter to feature intelligent, adaptive power sharing, the company's advanced active clamp flyback (ACF) AC/DC IC, and all of the other components needed to deliver a fully functional reference design.

Silanna AnyPort architecture allows engineers to complete a charger design for a given power level before specifying and configuring the specific number and type of output ports. This allows a single base charger platform to be deployed across a variety of end products with different output configurations. Time-to-market is further reduced as the RD-15 exceeds conducted and radiated EMI requirements, eliminating the need for pre-production validation and certification.
The RD-15 is a high-power-density, production-ready solution that minimises total power usage, thanks to an operating efficiency above 93.7 percent and a no-load consumption down to 161 mW. Efficiency is relatively flat across the universal (90 – 265Vac) input voltage range and low-to-full load conditions.
"Our growing family of production-ready reference designs is helping companies to dramatically reduce the time-to-market for compact, lightweight and ultra-efficient single- and multi-port fast chargers," says Ahsan Zaman, Silanna Semiconductor's director of product marketing. "With its advanced power sharing and re-balancing capabilities, the RD-15 is an important addition to this family and a solution that further improves the choice of AnyPort solutions available to manufacturers."
Integrated into the RD-15 is Silanna's SZ1131 AC/DC active clamp flyback (ACF) controller and the company's SZPL3002A high-voltage, high-efficiency integrated 65W buck converter. Combining a high-efficiency synchronous buck converter and an advanced USB PD/FC port controller into a single QFN package, the SZPL3002A power IC significantly reduces the number of components needed to implement 65W fast charger and adapter applications with up to four ports. Power sharing and port power re-balancing functionality are available across two, three, or four ports, with the controller ensuring that port power adapts to the needs of a particular device, irrespective of when connections are made.