The billion dollar fab that could change industries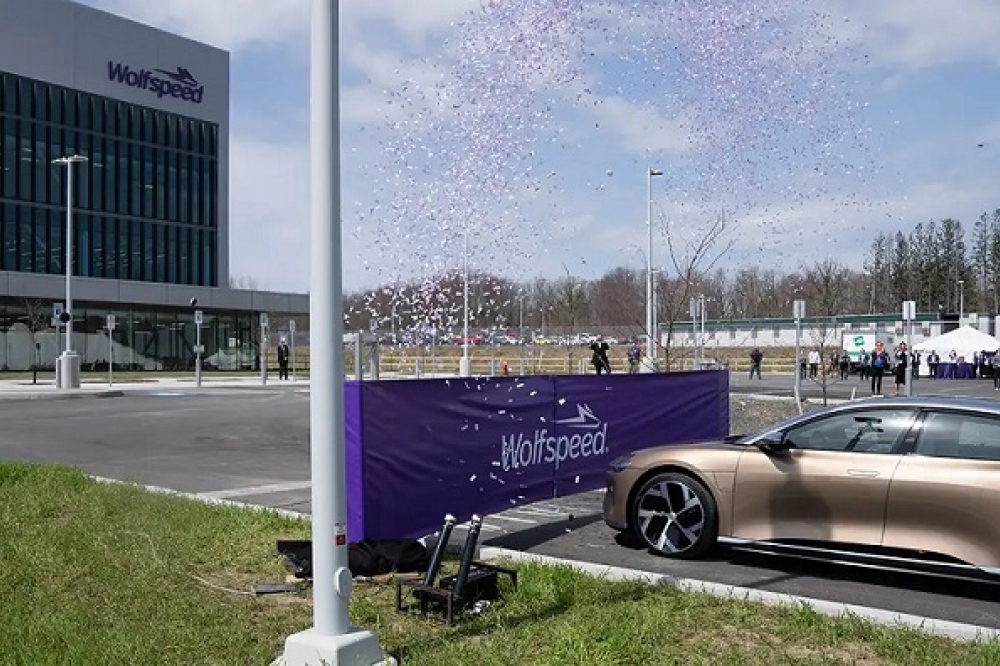 In an iconic moment for silicon carbide and electric vehicles, Wolfspeed opens 'the first, largest and only 200 mm SiC fab in the world'. What comes next, asks Rebecca Pool.

On the day that Wolfspeed opened its 200 mm automotive-qualified SiC fab in Mohawk Valley, Upstate New York, the SiC tech supplier also announced a multi-year agreement with Lucid Motors, to supply SiC power semiconductors. Right now, these can be found in the luxury, all-electric Lucid Air.
The two industry developments go hand in hand because, as Lucid's senior vice president of product and chief engineer, Eric Bach, exclaimed at the company's ribbon-cutting event: "We need every single SiC chip that we can get." Indeed, a few weeks earlier, Rohm Semiconductor revealed that Lucid was using its SiC MOSFETs in the Air's on-board charger. However, the latest events also signal to the SiC industry that great things are coming.
Officially opened on April 25th and dubbed 'the first, largest and only 200 mm SiC fab in the world', the Mohawk Valley facility is churning out SiC MOSFETs and packaging these up into its XM3 half-bridge power module. Six of these SiC packages will be used in each Lucid Air power-train inverter, providing the low switching losses and high power density necessary for the sedan's modest-sized, 74 kg, 500 kW electric motor.
Chief executive of Wolfspeed, Gregg Lowe, shows New York governor, Kathy Hochul, the manufacturing processes at the new SiC fabrication facility in Marcy, New York, US.

The Air itself is Lucid's first production model, and has already won the 2022 MotorTrend Car of the Year, beating the all-electric Porsche Taycan and Mercedes-EQ EQS. The vehicle boasts up to 1100 horsepower and an impressive range of 520 miles.
As Wolfspeed chief executive, Gregg Lowe - who perhaps not surprisingly drives a Lucid Air - highlighted at his facility opening: "This all-electric car has every whistle and bell you can imagine; it's breaking all kinds of electric vehicle records including driving range and recharge time."
Accolades aside, the new facility opens at a time when the buoyant SiC industry is bucking general, worldwide trends. Driven by electric vehicles, analysts predict billion dollar growth for the SiC market with France-based Yole Developpement forecasting figures beyond $6 billion by 2027, up from $1 billion in 2021.
In preparation, SiC players far and wide, including Sanan IC, Rohm, II-VI and Infineon, have been building up production capacities. But what sets the new Wolfspeed facility apart is its 200 mm wafers.
Competitors are working on this larger wafer size – for example, STMicroelectronics announced its first 200 mm SiC wafers for prototype devices in July last year while Sanan IC has aired hopes of manufacturing many thousands of 200 mm wafers come 2024. Still, the Mohawk facility is the world's first 200 mm fab, which could accelerate the industry transition to the larger wafer size, given many companies work with legacy 200 mm silicon wafer equipment. Current yield figures are not available, but the larger-sized wafer is set to raise chip yields by nearly 85% compared to 150 mm wafers, helping to ensure the future wafer supply many manufacturers are still striving to truly secure.
Even more expansion

Following Wolfspeed's billion dollar investment, the Mohawk Valley SiC fabrication facility comes in at 674,000 sq.ft. and is home to a 150,000 sq.ft. clean room. Coupled with expanding operations in Durham, North Carolina, Wolfspeed intends to establish what it calls a national SiC corridor along the US East Coast, and also raise SiC wafer and device production capacity by 30-fold, by 2024, from 2020 levels.
Looking beyond 2024, this figure is only set to swell. In its latest earnings call, on 4 May, for the third fiscal quarter of 2022, Wolfspeed revealed a revenue of $188.0 million, a 37% revenue increase compared to the same time in 2021, and up 9% from the previous quarter in 2022.
In the same call, Lowe also pointed to future capacity expansion saying: "A top priority going forward is increasing capacity for both materials and devices... Wolfspeed will very likely need to add more materials production as well as consider the construction of another wafer fab."
"At this point in time, I can't tell you precisely when and where, but it will certainly be sooner than we anticipated back at our Investor Day [November 2021]," he added.
This spells good news for manufacturers of SiC devices worldwide, the future SiC industry, but also the US East coast, a region that many at Wolfspeed's ribbon-cutting event referred to as 'Silicon Carbide Valley'. While the Mohawk facility valley has already generated more than 200 jobs, come 2029 numbers are expected to rise to 600. And along the way, Wolfspeed has been investing millions of dollars in neighbouring SUNY Polytechnic Institute, creating an internship program, scholarship scheme as well as two endowed faculty chairs, to secure its future workforce.
As SUNY Poly acting president, Tod Laursen, highlighted at the event: "We now have the opportunity to build a curriculum specific to the SiC industry, collaboratively with our industry partner [Wolfspeed]."
And his words were backed by New York governor, Kathy Hochul, who also said: "Tell us the skills that you need and we will make sure that our world class institutions in the Mohawk Valley are teaching those skills... [This] is where it's happening, I can feel the energy."