Gate driver reference design for SiC power modules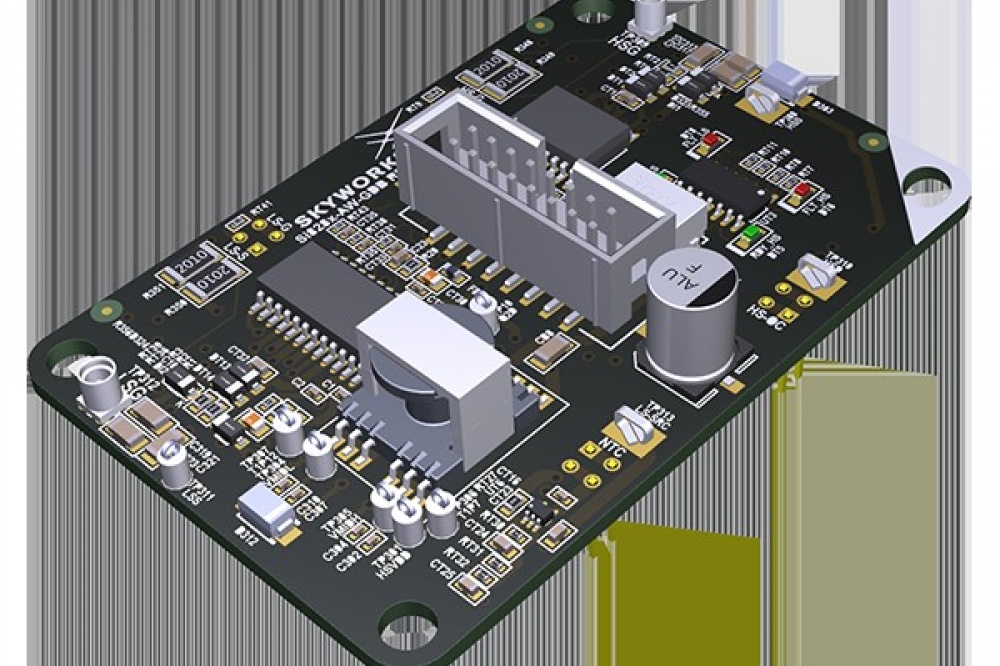 New GDB Kit from Skyworks enables higher efficiency for automotive and industrial applications

Skyworks Solutions, Inc. is introducing an isolated gate driver reference design that operates with Wolfspeed's SiC FET power modules.

With the growing adoption of SiC for power conversion and inverter applications, there is an increasing need for gate drivers that are optimised for SiC FETs. The new Si828x gate driver board (GDB) kit from Skyworks simplifies design and enables increased integration for automotive applications by replacing competing designs with more complex gate driver board layouts.
Designed and tested for Wolfspeed XM3 SiC FET modules and instantiated on an evaluation board, the Skyworks Si828x GDB kit keeps high voltage/high current SiC modules from overload and circuit damage. It is one of the leading industry products for protection of these modules from fault-related impairment.
Together, the Skyworks GDB and Wolfspeed XM3 solution is well-suited for fast charging and power conversion applications, EV drivetrains, as well as drive motors and uninterruptable power supplies for industrial environments.

"We are excited about this continued partnership," said Mark Thompson, senior vice president of Mixed Signal Solutions at Skyworks. "Our Si828x gate drivers were originally tested with Wolfspeed SiC MOSFETs. Now, in adding the GDB board, we have a complete tried-and-true solution for the market."
"We have teamed up with Skyworks to validate their gate driver board that pairs with our XM3 SiC FET power modules. The Si828x gate driver board is very robust for protecting the power module during a short circuit event, detecting the load fault and shutting off the XM3 in less than one microsecond," said Austin Curbow, manager of the Applications & Systems Team for Power Modules at Wolfspeed. "Further, its robust 15 Amp source and sink capability maximises switching speed, minimising switching losses and increasing efficiency."
Power Electronics International to return to Brussels – Inaugral event.

The first power electronics conference and exhibition will bring together key players from across the value chain for two-days of strategic technical sessions, dynamic talks and unrivalled networking opportunities.

Join us face-to-face on 18-19 April 2023
View the agenda.
3 for the price of 1. Register your place and gain complementary access to TWO FURTHER industry leading conferences: CS International and PIC International.
Email info@pe-international.net or call +44 (0)24 7671 8970 for more details.