SynQor releases military power module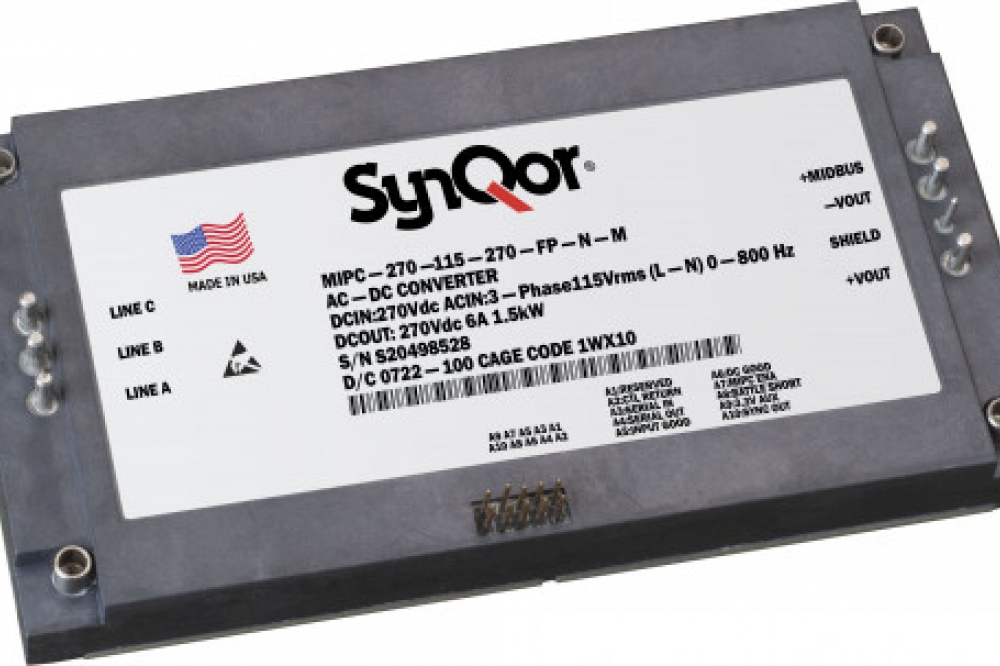 New 3-Phase AC or 270 Vdc input power conditioner module is designed for aircraft applications

US-based SynQor has announced a new military grade, 3-Phase AC or 270 Vdc input Power Conditioner module (MIPC). The unit's flexible input, wide frequency range and specification compliance allows it to operate in aircraft applications seamlessly, according to the company.

The MIPC can draw balanced input currents within ±1 percect from a 3-Phase 115 Vrms Line-to-Neutral source or be powered from a 270 Vdc source and deliver 1.5 kW at 270 Vdc. The power conversion efficiency of this compact, full-brick-size module is as high as 95.4 percent. This brick can deliver full power over a wide baseplate temperature range (-55°C to 100°C). Up to 10 units can be connected in parallel for higher power.
The MIPC is designed to meet MIL-STD-704 (leading power factor), MIL-STD-461 (C-F), MIL-STD-1399, and MIL-STD-810G. The MIPC has superb Total Harmonic Distortion of less than 3 percent at output power levels above 650 W. The 115 Vrms "Delta" input connected PFC can operate at frequencies from 0 Hz to 800 Hz (at 0 Hz, a 180 to 297 Vdc input voltage is expected). This ruggedized, military-grade component is designed to meet shock, vibration and environmental conditions as specified by MIL-STD-810G.
The MIPC includes a variety of status signals, an RS-232 serial interface, an output 'MIPC Enable' control pin, and a 'Battle-Short' pin. The module provides the AC_GOOD and DC_GOOD control signals, allowing designers to evaluate the unit's status quickly. Detailed statistics of the converter can be accessed through a 9,600 baud serial interface. The module's output may also be enabled or disabled through the 'MIPC Enable' pin.
The unit has a 'Battle Short' pin that allows users to override potential shutdowns due to an over-temperature or input phase drop event. SynQor's products have a proven record of satisfying and often exceeding military specifications to deliver the most efficient and dependable solutions in the market.