Rohm Adds New DC/DC Converter IC For ADAS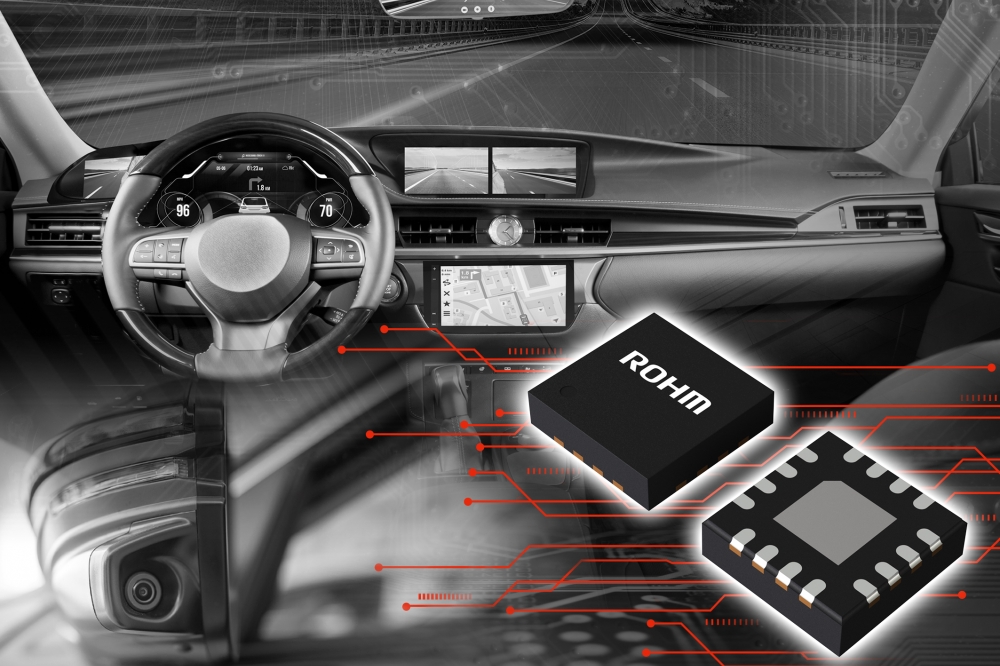 QuiCur technology increases the design flexibility for power circuits in increasingly sophisticated automotive applications
Rohm has developed a new buck DC/DC converter IC with built-in MOSFET (switching regulator) for automotive applications such as infotainment and ADAS (Advanced Driver Assistance Systems) incorporating onboard sensors and cameras that are becoming more advanced.

In recent years, safety requirements in the automotive sector have increased as technological innovations in accident prevention and autonomous driving continue to progress. In line with this, SoCs and MCUs that control ADAS incorporating onboard sensors and cameras are leading to greater sophistication, necessitating power supply ICs to operate more stably even under severe load current fluctuation conditions.

To meet these needs, in 2017, Rohm established Nano Pulse Control ultra-high-speed pulse control technology that provides low output voltage at high switching frequencies, followed by QuiCur high-speed load response technology in 2021 that ensures stable operation. The IC to adopt QuiCur technology allows for class-leading stable operation compared with automotive secondary DC/DC converter ICs with equivalent performance.

The new BD9S402MUF-C DC/DC converter IC supports output voltages down to 0.6V and 4A output current at switching frequencies higher than 2MHz in a compact size demanded by increasingly sophisticated secondary power supply applications for high performance MCUs and SoCs.
What's more, it is incorporating proprietary QuiCur high-speed load response technology and enables stable operation at an industry-leading 30mV (measurement conditions: 5V input voltage, 1.2V output voltage, 44µF output capacitance, load current variation 0 to 2A/2µs). This translates to a 25 percent reduction in output voltage fluctuation over class-leading standard products with equivalent functionality, making it ideal for use in the latest ADAS with severe power supply conditions requiring stable operation within 5% even with low voltage output.
The BD9S402MUF-C is also equipped with a new load response performance selection function that allows users to easily switch priority between 'voltage fluctuation' (for industry-leading stable operation), and 'capacitance reduction' (to ensure stable operation at 22µF) via terminal setting. The result is that users can significantly reduce the resources required for power circuit design, as stable operation can be easily achieved not only at the initial design, but also during specification or model changes.

Going forward, Rohm plans on expanding its lineup of power supply ICs incorporating QuiCur to support a wider range of applications.
Power Electronics International to return to Brussels – Inaugral event.

The first power electronics conference and exhibition will bring together key players from across the value chain for two-days of strategic technical sessions, dynamic talks and unrivalled networking opportunities.

Join us face-to-face on 18-19 April 2023
View the agenda.
3 for the price of 1. Register your place and gain complementary access to TWO FURTHER industry leading conferences: CS International and PIC International.
Email info@pe-international.net or call +44 (0)24 7671 8970 for more details.