Infineon Adds Automotive High-side Gate Driver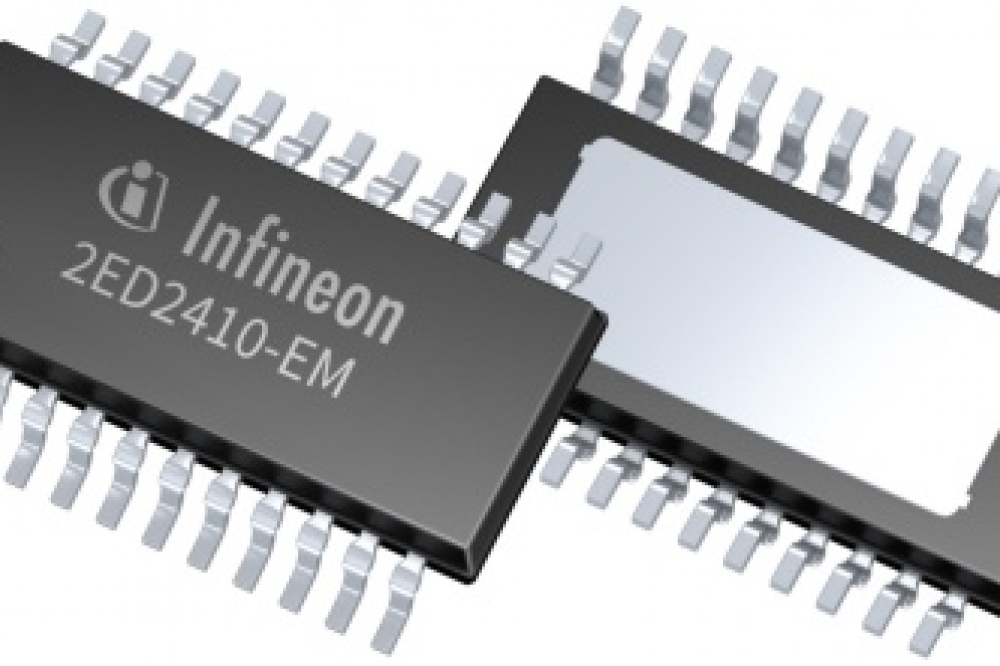 EiceDRIVER 2ED2410-EM enables new wire protection capabilities for advanced automotive power distribution
Infineon Technologies AG has introduced the EiceDRIVER 2ED2410-EM, a smart high-side MOSFET gate driver for 12 V/ 24 V automotive application with integrated wire protection. This gate driver is a good match for Infineon's 40/ 60 V OptiMOS MOSFETs.

This gate driver features two output channels for two different MOSFET structures, either back-to-back common source plus a pre-charging path or common drain. The enhanced driver capability to turn-on and turn-off allows it to easily scale up the amount of MOSFETs to manage larger load currents. Even up to several hundred amps, it ensures fast switch-off within microseconds while classical fuses only disconnect in the range of milliseconds. Furthermore, this device can be operated down to 3 V. Such low voltages can occur in a short circuit until the faulty load is disconnected.

The EiceDRIVER 2ED2410-EM has three analog measurement interfaces and four integrated comparators for protection purposes. This enables flexible and versatile solutions for various requirements including adjustable I-t wire protection, overcurrent protection, over/undervoltage protection and others. Currents can be measured in both directions and the drain-source-voltage is monitored to identify conditions such as an open load at the output.

The adjustable wire protection feature helps select the smallest possible wire cross section for the corresponding load behavior. In the past, wires had to be designed with a diameter margin of up to 30 percent compared to the actual requirements, in order to consider the tolerance and aging effect of classical fuses. To minimize the discharge of the battery when the vehicle is parked, the device comes with a very low quiescent current consumption of only a few tenths of µA.
The 2ED2410-EM is in production now. It is PRO-SIL ISO26262-ready and comes with a safety application note to support evaluation of hardware elements according to ISO 26262. To accelerate the design-in process, different evaluation boards are available for order including EB 2ED2410 3M.
Power Electronics International to return to Brussels – Inaugral event.

The first power electronics conference and exhibition will bring together key players from across the value chain for two-days of strategic technical sessions, dynamic talks and unrivalled networking opportunities.

Join us face-to-face on 18-19 April 2023
View the agenda.
3 for the price of 1. Register your place and gain complementary access to TWO FURTHER industry leading conferences: CS International and PIC International.
Email info@pe-international.net or call +44 (0)24 7671 8970 for more details.