Rohm Adds 4th Gen Fast Recovery Diodes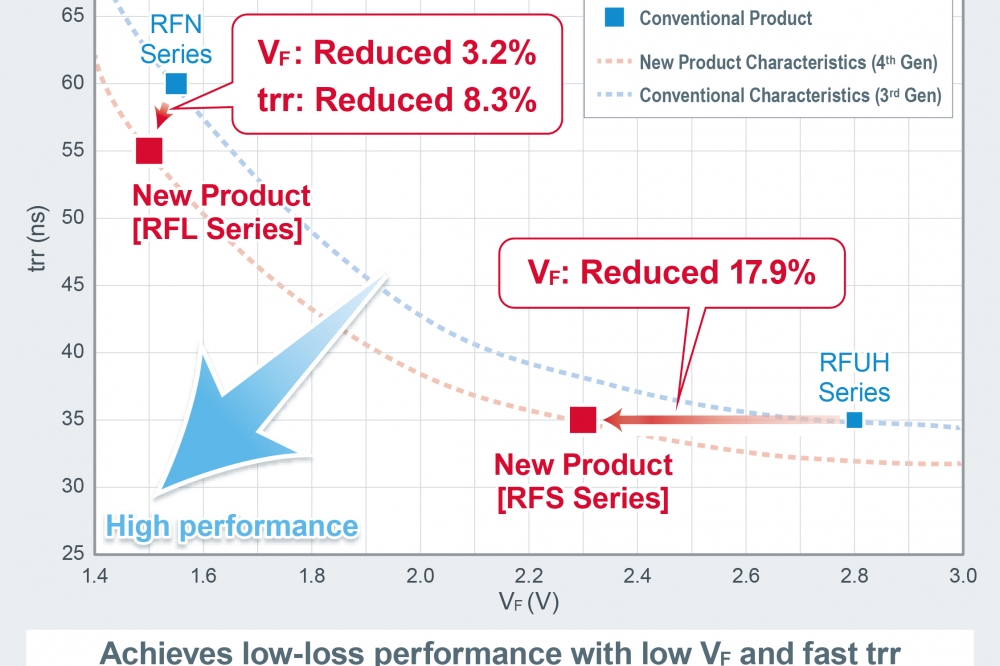 RFL/RFS series improves power supply efficiency and reduces noise measures in air conditioners and EV charging stations
Rohm has developed its 4th Generation 650V fast recovery diodes (FRDs), the RFL/RFS series, featuring low forward voltage (VF), fast reverse recovery time (trr) respectively, as well as ultra-low noise characteristics. The new devices are suitable for industrial and consumer equipment that handle large amounts of power, such as air conditioners and EV charging stations.

Rohm says that optimising the device structure and materials allows the RFL/RFS series to achieve the optimum balance of VF and trr, which are important characteristics for FRDs but are in a trade-off relationship.
The low VF RFL series reduces VF by approx. 3.2 percent and trr by about 8.3 percent over the conventional RFN series, while the high-speed RFS series VF by approx. 17.9 percent vs the conventional RFUH series. Both products contribute to higher power supply efficiency through optimal design based on circuit requirements. Furthermore, ultra-low noise diode recovery characteristics are achieved. They help to reduce both workload and components for noise.

Going forward, Rohm will continue to expand the package lineup of the RFL/RFS series to provide automotive support while expanding applicability by reducing power consumption.
Power Electronics International to return to Brussels – Inaugral event.

The first power electronics conference and exhibition will bring together key players from across the value chain for two-days of strategic technical sessions, dynamic talks and unrivalled networking opportunities.

Join us face-to-face on 18-19 April 2023
View the agenda.
3 for the price of 1. Register your place and gain complementary access to TWO FURTHER industry leading conferences: CS International and PIC International.
Email info@pe-international.net or call +44 (0)24 7671 8970 for more details.