Transphorm GaN FETs In Hi-rel Medical Application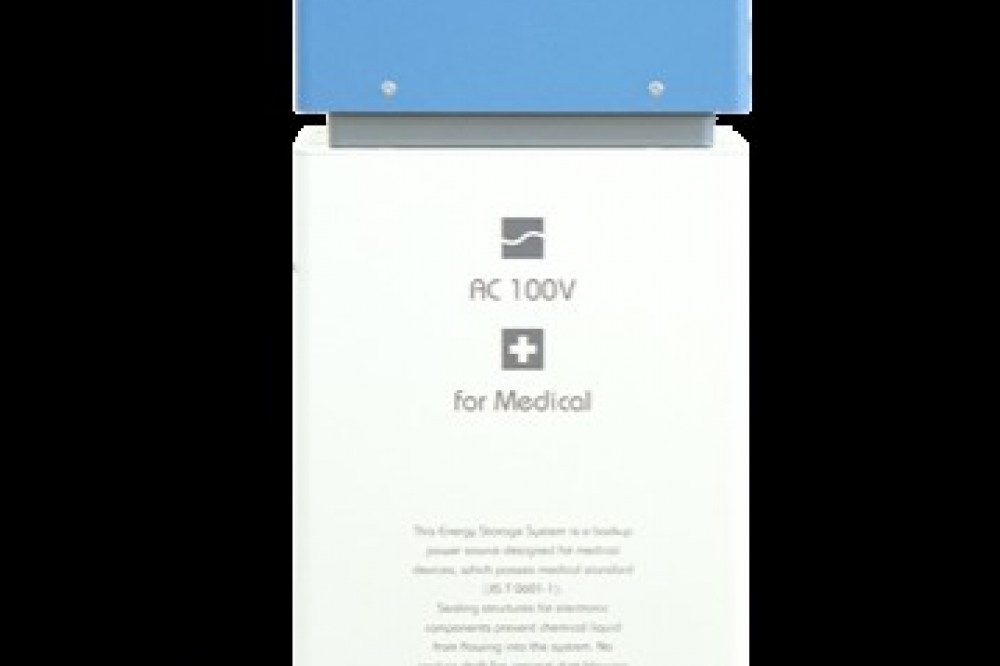 GaN technology powers the Lemuria ME3000 from Nayuta Power Energy
GaN company Transphorm has announced that its GaN technology powers the Lemuria ME3000 from Nayuta Power Energy. The Lemuria ME3000 (pictured above) is Japan's first lithium-ion (Li-ion) battery power storage device for medical equipment to earn S-JQA certification for electrical products, a mark that indicates a product's safety and performance quality.

Transphorm's JEDEC-qualified TP65H035WS is a high performance 650V, 35 mohm GaN device in a thermally robust TO-247 package. It is said offer the industry's highest reliability with a ±20V gate safety margin and a 4V noise immunity threshold. It can also yield greater than 99 percent power efficiency while reducing power system size, weight, and overall cost.

The Lemuria ME3000 is a small, lightweight product that is easily portable in medical facilities as well as in the field. It has a continuous 1.5 kW output and a 3.3 kWh storage capacity with up to 33 hours of usability before needing to be recharged. Whereas an incumbent silicon product was fan cooled, the GaN FET's performance enabled Nayuta to build the Lemuria ME3000 as a fanless power system that increased power efficiency from 96.24 percent to 99.01 percent which is a 73 percent reduction in power loss operating at the same frequency. As a result, the power supply is a hermetically sealed unit without ventilation holes, which prevents liquids and dust from contaminating or damaging the system.

The Lemuria ME3000 is JIS T060-1 certified, a Japan Quality Assurance Organisation (JQA) standard based on the international IEC 60601 standard. These quality controls ensure that electrical equipment used in medical environments meet higher safety and performance requirements particularly with respect to electromagnetic interference and current leakage.

"Medical environments call for solutions that offer extremely high reliability all while meeting rigid safety and sanitation protocols. A power supply running a respirator cannot fail. Nor can it expose patients to potential germs harbored in areas that cannot be easily cleaned—which is where a sealed, GaN-based unit offers incredible value," said Morgan Yoshiyuki Habuta, executive director, Nayuta Power Energy.
"The high switching capability and reliability offered by Transphorm's GaN FETs enabled us to achieve our goals with respect to the Lemuria ME3000. Incorporating the FETs into our advanced power system design delivered a Li-ion battery supply capable of supporting a wide range of high-power medical applications at any location. We're expanding the reach of medical care, and Transphorm's GaN is helping us do it."

Due to its portability, the Lemuria ME3000 can be used in numerous environments including large hospitals (operating, diagnostic, and patient rooms); long-term care facilities; individuals' homes; and disaster sites.
Power Electronics International to return to Brussels – Inaugral event.

The first power electronics conference and exhibition will bring together key players from across the value chain for two-days of strategic technical sessions, dynamic talks and unrivalled networking opportunities.

Join us face-to-face on 18-19 April 2023
View the agenda.
3 for the price of 1. Register your place and gain complementary access to TWO FURTHER industry leading conferences: CS International and PIC International.
Email info@pe-international.net or call +44 (0)24 7671 8970 for more details.