Lamborghini and MIT hit high gear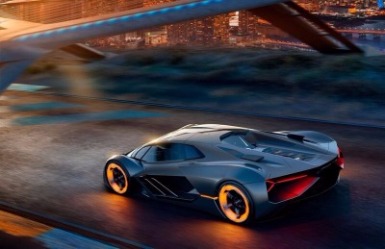 An unusual partnership between the Massachusetts Institute of Technology (MIT) and Automobili Lamborghini led to the unveiling on 7th November of the Italian car maker's entry into the all-electric "˜hypercar' design race that utilizes super capacitors instead of battery banks for high-performance energy.

Lamborghini presented the new design concept, "Lamborghini of the Terzo Millennio," as a means to physically imagine what the automaker and MIT see as a design and technology platform that utilizes theories of future transportation systems while retaining the style and sophistication for which Lamborghini sports cars are renowned. The company characterized its design as sustaining, ""¦the visual intrigue, breath-taking performance and, most importantly, the visceral emotion found in every dimension of a Lamborghini. It is made for future super sports car enthusiasts."

Setting aside Lamborghini's baroque marketing language, the company also assured automotive enthusiasts and renewable energy advocates that the company envisions a future of mostly electric vehicles, a sharp departure for a company that built its reputation on exotic, high-performance petrol-fueled race cars that multi-millionaire lottery winners, rock stars and technology billionaires can't seem to live without.

On a more serious note, Lamborghini and MIT indicated that the technological goal of the project is to enable the Italian car company to create future advanced sports cars that address five different dimensions: energy storage, materials innovation, propulsion, design and emotion.

While the company stopped far short of calling their new concept vehicle a "˜rolling battery,' it did note that energy storage for a high performance automobile presents unique engineering challenges that today's electric vehicles cannot solve""it will require a battery or capacitor-based system far in advance of what powers today's Teslas or Nissan Leafs.

The strategy of creating super sports cars with uncompromising performance is Lamborghini's motivation to revolutionize the automobile industry's approach to energy storage, moving away from conventional lithium-ion batteries and investigating the potential of supercapacitors to power the Terzo Millennio.

Lamborghini stated that their new Millennio concept vehicle utilizes a modified electrical system that is in line with the application of low voltage supercapacitors that it first utilized in designing the petrol-fueled V12 Aventador, a project that began five years ago. The next logical step is the development of a storage system able to deliver high peak power and regenerate its energy stores through the application of kinetic energy harvesting with very limited influence from aging and cycling, and with the ability to symmetrically release electric power as needed. The technological collaboration with Prof. Mircea Dinca (MIT) is aiming to overcome the limits of today's battery and capacitor-based systems and close the gap on conventional batteries' energy density while preserving the high power, symmetrical behavior and the very long lifecycle related to supercapacitor technology.

"The new Lamborghini collaboration allows us to be ambitious and think outside the box in designing new materials that answer energy storage challenges for the demands of an electric sport vehicle. We look forward to teaming up with their engineers and work on this exciting project," Professor Dinca said.

Lamborghini added that the energy storage system that they and MIT envision will travel hand-in-hand with high performance. Each wheel in the new concept vehicle includes an integrated, regenerative electric motor. Lamborghini said this concept continues its commitment to four-wheel drive, while at the same time provides for energy harvesting opportunities through electric motors designed to meet the performance required by a top-end racer, namely: high torque, reversibility, and the possibility of moving energy by wire. The Terzo Millennio therefore embodies the company's first steps towards creating a "Lamborghini Electric," they explained.

Lamborghini and MIT did not indicate when elements of the concept vehicle could move into production automobiles. However, they conceded that some of the engineering concepts needed to implement the concept street racer were still being validated, placing any sort of production vehicle that utilizes Terzo Millennio concepts announced on 7th November at least several years if not a decade or more into the future.