World's Most Valued Electric Utility Brands Now Topped By China's State Grid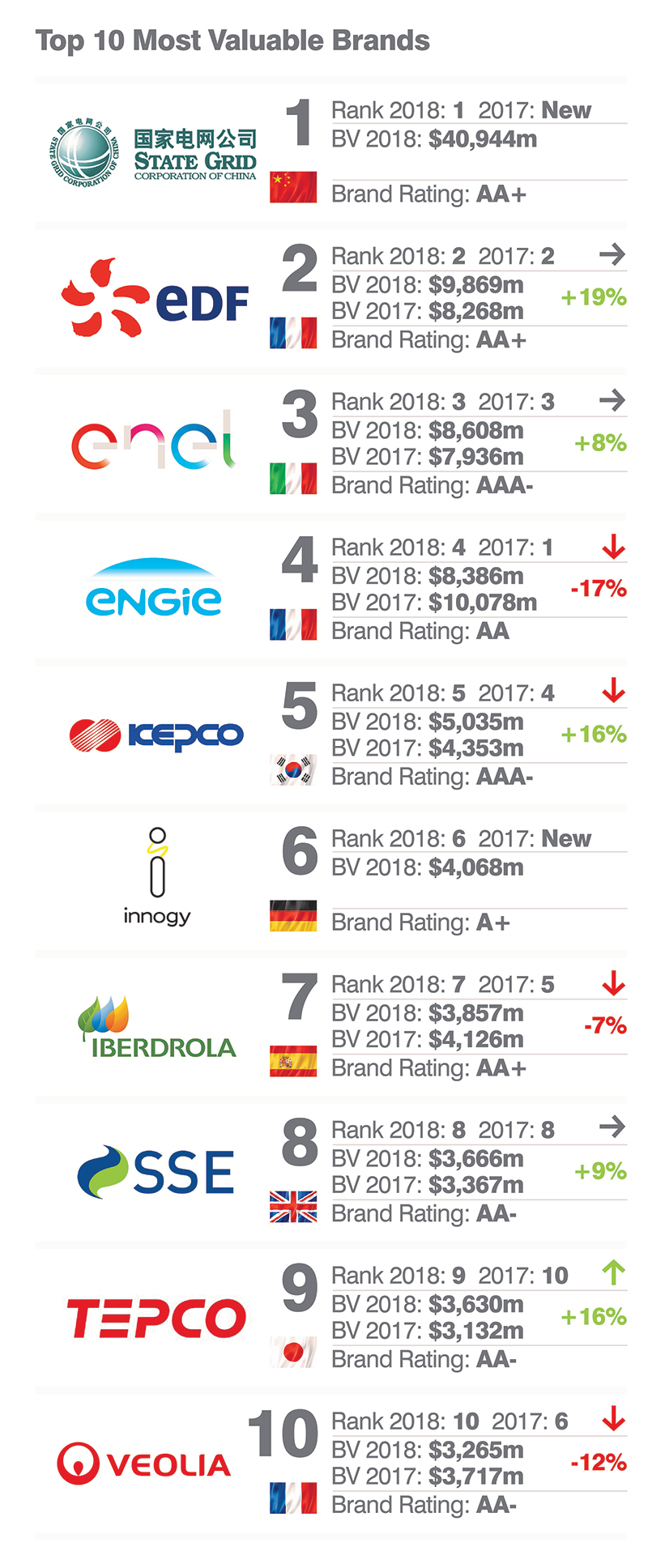 China's State Grid, the best known and largest of Chinese state-owned utilities, has debuted at the top of Brand Finance's annual rankings of the world's top utility companies, according to the service's report that assesses the brand value of public and privately held utilities. Brand Finance (UK) independently ranks utility companies based on a variety of disclosed revenues and customer satisfaction details as well as its market position relative to competitor.

State Grid made a commanding entrance into the Brand Finance Utilities 50 league rankings. With a brand value of (USD) $40.9 billion, over four times more than France's EDF, it is by far the most valuable utility brand in the world. The company's service covers the majority of China's land area, with a population of more than 1.1 billion. The brand's success is supported through strategic investment, innovative technology, responsible operations, and environmental stability efforts, noted Brand Finance. State Grid has stated that it is committed to an electrification revolution in China that would connect all networks across the country. The brand is known for investing in "˜Smart Grid' electrical systems using Ultra High Voltage (UHV) lines, among other projects which enable a cleaner and more efficient transmission of electricity.

State Grid is also admired in China for their sense of corporate social responsibility, researchers stated. Their tagline "˜Your power, our care' aligns with the government's projection of the national brand which underscores the need for state institutions to balance authority with consideration.

Three smaller Chinese brands have also made an entrance into the Brand Finance Utilities 50 league table this year: GD Power Development [28th, (USD) $1.4 billion], Datang Power [33rd, (USD) $1.2 billion], and CGN [39th, (USD) $1.1 billion].

"The success of Chinese brands can be attributed to the government policy of promoting green and renewable energy solutions. As China takes on a global leadership role, also in environment protection, corporate brands benefit from the momentum. The largest of Chinese utilities brands, State Grid, is leading the way with its commitment to greener solutions, setting an example of a responsible approach that other global players can follow," said David Haigh, CEO of Brand Finance.

Of the Top 10 utility brands across the globe, seven are located inside greater Europe, including EDF (France) that came in second to China's State Grid at a valuation of (USD) $9.8 billion, followed by Enel in Italy at (USD) $8.6 billion and Engie (France) at (USD) $8.3 billion. The only other utilities in Asia that made it into the Top 10 are Icepco (South Korea) at number five (USD) $5.03 billion and Tepco (Japan) at number nine, with a brand value of (USD) $3.63 billion. The UK's SSE came in at number eight, with an assessed brand value of (USD) 3.66 billion. No utilities from the United States captured a Top 10 ranking; however, Juniper Networks (USA) came in just outside the Top 10, winning the 11th place rating at (USD) $1.2 billion.

While no US utilities companies ranked within the Brand Finance Top 10, 16 US-based utilities did capture spots in the overall Top 50 rankings, meaning that of world's most valued utility companies with recognizable brands, US firms took more than 30 percent of the top spots. A total of five utilities based in the UK found positions in the Top 50 rankings, while three French utilities were in the Top 50, as were three from Spain along with three from Germany; five utilities based in Japan were within the Top 50 global brands.

European utility giants reorganise their brand architecture
The Brand Finance experts also recognized the changing face of utility structures in assessing various brand and market values. They noted that the change towards incorporating ever growing renewables and alternative energy components relative to their overall product line-up has resulted in a need for European utility companies to consider the best ongoing strategy for the use of their brands. E.ON and RWE have both chosen to divide their business and use distinct brands for the two sets of operations in the past year. While this does not necessarily reduce a brand's overall value compared to utilities with little to no renewables component, it can affect public perception. When new names appear publicly, customers may not always see the various branding programs and initiatives of utilities that lead to brand perception and may take years to establish firmly in customers' minds. Customers may not link the name of a renewables business component with its legacy brand identity.

One such company going through what might be called a "˜brand reorganization' is RWE (Germany), a giant in the utility market. RWE separated its operations into two segments: Innogy and RWE. Innogy oversees renewables, grids, and retail, whereas RWE is centred towards conventional power generation and energy trading. As a result, RWE dropped out of the Brand Finance Utilities 50, replaced by Innogy which entered the table in 6th place.

E.ON (another German utility powerhouse) demerged its business into two sections, renewable energy networks and fossil fuel. The latter was rebranded as Uniper, and entered the rankings in 11th place, a spot it no longer holds in the most recent reassessments. As a result of the split, E.ON dropped from 4th to 13th with its new focus on green energy. Enel (Italy) has done the converse to these two German brands and over the last few years has been embarking on an overhaul of their brand in an attempt to change consumer perceptions towards a more environmentally friendly option.

Enel emerges as the strongest brand
According to Brand Finance, overall brand strength ratings are a combination of important qualities including an organization's enterprise value (the collective value of its business units,) business value under a single brand, and a number of other factors. Brand strength could be considered as an overall assessment, a quality that Brand Finance describes as the, "˜efficacy of a brand's performance on intangible measures, relative to its competitors' performance.' Brand Finance says that in order to determine the strength of a brand, their researchers examine a company's marketing investment, stakeholder equity, and the impact of those qualities on business performance. Each brand is assigned a Brand Strength Index (BSI) score out of 100, which feeds into the brand value calculation. Based on the score, each brand is assigned a corresponding rating up to AAA+ in a format similar to a credit rating. Analysing the three brand strength measures helps inform managers of a brand's potential for future success.

Enel Spa (Italy), one of the world's leading integrated electricity and gas operators, emerged as the strongest brand this year with a brand strength index (BSI) score of 82.8 and a brand rating of AAA-, according to Brand Finance. Enel has undergone a strategic repositioning and brand refresh, successfully establishing itself as a consumer-focused and environmentally-friendly energy provider as well as a considerate employer, the company said.

The Enel brand also expanded its global presence last year through the consolidation of a rebranding process that was initiated in 2016, and the launch of many flagship initiatives around innovation and sustainability, the researchers noted in their report. Examples include Enel's opening of Innovation Hubs in San Francisco, Tel Aviv, Moscow and Madrid; the massive deployment of EV charging infrastructure in Italy, and the launch of pioneer nanotechnology for wastewater treatment in Latin America. In addition, the brand boosted its capability to deliver value on new services with the acquisitions of Demand Energy and Enernoc, two leading US-based providers of smart energy solutions.

The second strongest utility brand behind Enel, with a brand strength score of 82.4 and a brand rating of AAA-, is Saudi Electricity Company. The brand also grew 62% in value to (USD) $1.9 billion, jumping from 41st to 19th in the latest table, which can be attributed to the expansion of their service to 502,000 new customers and 150 new residential communities, according to Brand Finance researchers.